Archive Non-Conformances raised in error, from within the completed audit report.

Non-Conformances are now able to be archived in the Audit Report Template.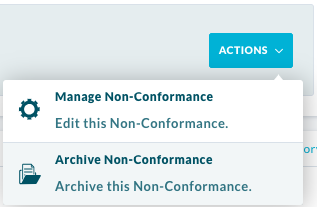 In the report of a completed audit you will now see a Action button, select the action button on the Non-Conformance you wish to Archive.
The dropdown includes Manage Non-Conformance and Archive Non-conformance. Select the Archive Non-Conformance.
Confirmation modal appears and you are able to confirm you wish to archive and add a comment to the archive action.
The Non-conformance should now be archived and is no longer on the audit report.
PLEASE NOTE:

You are not able to delete anything other than a draft of a template on AuditComply, this is because we understand that some things may happen by accident and irrelevant information may not always stay irrelevant archiving information instead of deleting it means that you are able to retrieve data.